Discover
your dream property
in Valencia
We specialise in assisting international clients
to buy and develop real estate in Valencia, Spain.
We help our clients with the purchase of their property
and with all the formalities related to their residence,
legal and administrative questions, finding a school, etc.
Apartments in Valencia
1.175.000€
3


Bedrooms

2


Bathrooms
160 m2
Size
Why buy a property in Valencia, Spain?
Capital of the autonomous community of Valencia and the third-largest city in Spain. Access to Spain, Europe and the world. Valencia's transport infrastructure (road, rail, sea and air) and geographical location on Spain's east coast provide easy access to the Spanish market..
Valencia has a subtropical Mediterranean climate with short, very mild winters and long, hot and dry summers.
Valencia has about 800,000 inhabitants in the administrative centre. Its urban area extends beyond the administrative city limits with a population of around 1.5–1.6 million people.
Offers festivals, culture, sport, gastronomy, architecture, commerce and business with a great entrepreneurial spirit. A city with as many plans as reasons to come back.
From a broader perspective, Valencia is positioned at a strategic point in the Mediterranean corridor. This, in turn, provides an entry point to Europe and a trade corridor with the world.
In addition, Valencia's recognised tech hub status has attracted numerous Silicon Valley VC investment funds and accelerators to the city. As such, collaborations are growing between startups and technology companies based in Valencia with their equivalent in the USA. LANZADERA is located in Valencia. It is a private business accelerator and one of the main investors in Europe.
Villas in Valencia
1.300.000€
4


Bedrooms

4


Bathrooms
750 m2
Size
1.006 m2
Land size
1.285.000€
7


Bedrooms

4


Bathrooms
542 m2
Size
2.223 m2
Land size
800.000€
6


Bedrooms

3


Bathrooms
380 m2
Size
1.650 m2
Land size
550.000€
4


Bedrooms

4


Bathrooms
248 m2
Size
1.157 m2
Land size
525.000€
5


Bedrooms

5


Bathrooms
620 m2
Size
570.000€
5


Bedrooms

2


Bathrooms
550 m2
Size
1.891 m2
Land size
340.000€
4


Bedrooms

2


Bathrooms
200 m2
Size
1.650 m2
Land size
1.750.000€
5


Bedrooms

6


Bathrooms
895 m2
Size
1.200 m2
Land size
470.000€
5


Bedrooms

3


Bathrooms
280 m2
Size
1.044 m2
Land size
390.000€
4


Bedrooms

4


Bathrooms
380 m2
Size
800 m2
Land size
Why are we different in Valencia?
Firstly: Previous client references/testimonials openly available upon request.
Our core daily business is dealing with international clients searching for a property in the immediate areas of Valencia Spain.
100% Direct Listings: All of the properties we offer for sale in Valencia are direct listings from the current owners wanting to sell in the immediate Valencia areas and Valencia City.
Our offices are situated in the centre of Valencia City and are easily accessible by public transport, car and are staffed daily by our multi lingual teams.
Our staff are highly experienced in the Valencia Real Estate sector & most members have been working with Found Valencia for many years.
We speak Spanish, English, Russian, French,Italian,Dutch and Flemish. We also offer additional client support in Chinese and Arabic.
We are available at weekends and holidays.
We have active listing campaigns weekly in Valencia and the surrounding areas, and these new listings can be viewed on the "Latest" tab on our home page, where we keep you updated with price changes.
Our turn-key and relocation services are tailored to meet the highest of client expectations.
We are highly experiences in construction and restoration, From property refurbishments to complete one off builds.
How it Works
We can help you buy a property in Valencia, Spain with full support
Contact us and let us know what type of property you need. You can also book a video call with our CEO, Conor Wilde, so he can talk you through the process of buying a property in Valencia.
We will send you a personalised selection of properties according to your needs.
You will select the properties you like the most and we will arrange a visit with a real estate expert. We can also arrange a virtual tour if you are unable to visit the country.
Once you have chosen a property, the next step is to sign a reservation, make the payment and prepare all the documentation for the purchase.
On the day of purchase we will accompany you through the whole process and help you with any issues you may need to live in your new home.
My name is Conor Wilde and I am the Company Founder and Managing Director of Found Valencia.
In our company we know that buying a property in a foreign country can be a process that generates doubts. That is why we always recommend working with qualified professionals.
We will accompany you throughout the process, in a personalized way: first talk to know how is to buy a property in Spain, selection of properties, visits, negotiation with sellers, reservation of the property and purchase. And we will go further, helping you with any issue related to your new life in Valencia: residence in the country, bureaucratic and legal formalities, finding schools, renovations, etc.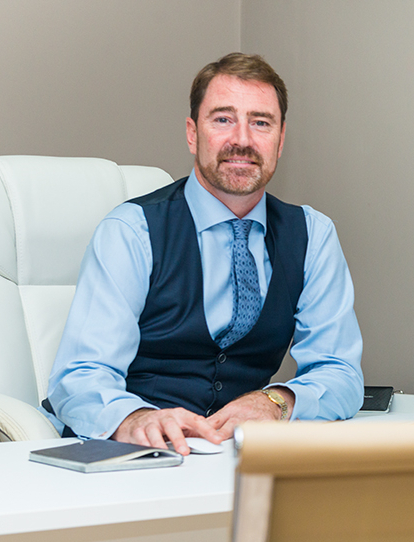 Contact
How to get started?